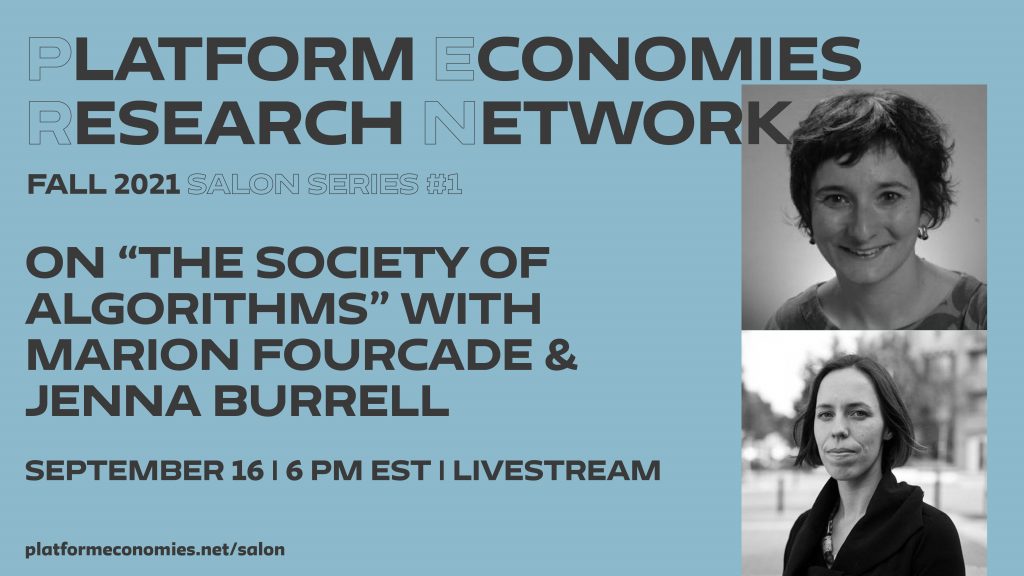 This conversation with Jenna Burrell and Marion Fourcade on their recent essay, "The Society of Algorithms," published in the Annual Review of Sociology (July 2021) was live-streamed to the public on Thursday, 16 September 2021 at 6 PM EST.  You can view the recording of stream here.
Jenna Burrell is a Professor of Information Science and Co-Director of the Algorithmic Fairness and Opacity Group at UC Berkeley. In August 2021, Professor Burrell joined Data & Society as Director of Research. Her current research focuses on rural communities that host critical Internet infrastructure such as fiber optic cables and data centers. Burrell is the author of Invisible Users: Youth in the Internet Cafes of Urban Ghana (MIT Press, 2012).
Marion Fourcade is a Professor of Sociology and Director of the Social Science Matrix at UC Berkeley and Associate Fellow of the Max Planck-Sciences Po Center on Coping with Instability in Market Societies. Her work incorporates comparative methods to examine the sociology and history of economic and political knowledge and practice. She is the author of Economists and Societies: Discipline and Profession in the United States, Britain, and France, 1890s to 1990s (Princeton University Press, 2010).