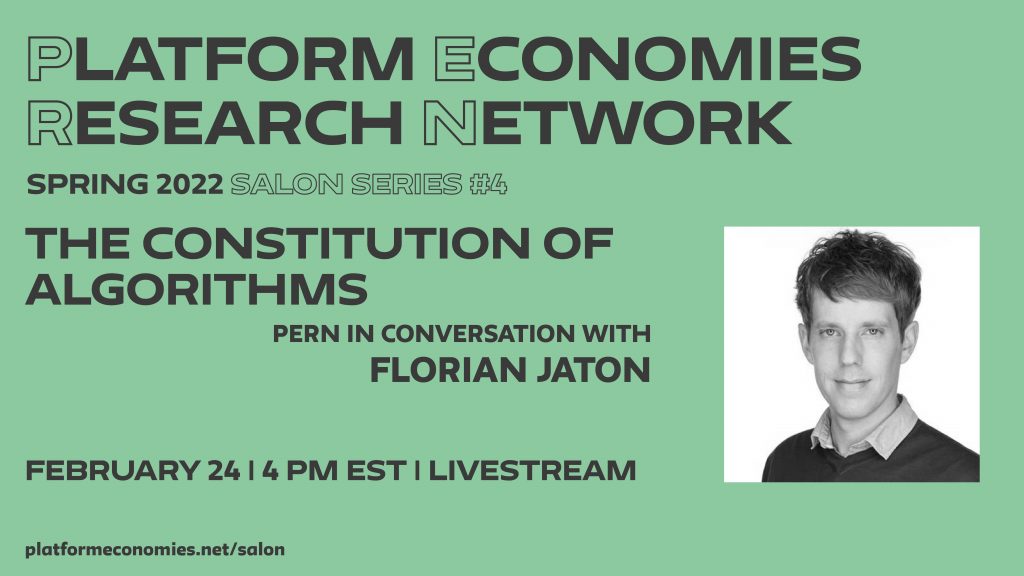 This conversation with Florian Jaton about his recent work on algorithms and ground-truthing practices was live-streamed to the public on Thursday, 24 February, at 4 PM EST. You can view the recording of the stream here.
Florian Jaton is a sociologist of science, technology, and computing and currently a Postdoctoral Researcher at the STS Lab, a research center of the University of Lausanne. Previously, he was a Postdoctoral Researcher at the Centre de Sociologie de l'Innovation (CSI) in Paris. He is the author of The Constitution of Algorithms: Ground-Truthing, Programming, Formulating (The MIT Press, 2021).
The PERN Salon hosts discussions, presentations, and workshops. The Platform Economies Research Network (PERN) is committed to fostering a community of learning. We organize events with our members and guests on works-in-progress and new projects. We welcome presentations in all forms of media, and we seek to foster exchange between academics and practitioners.