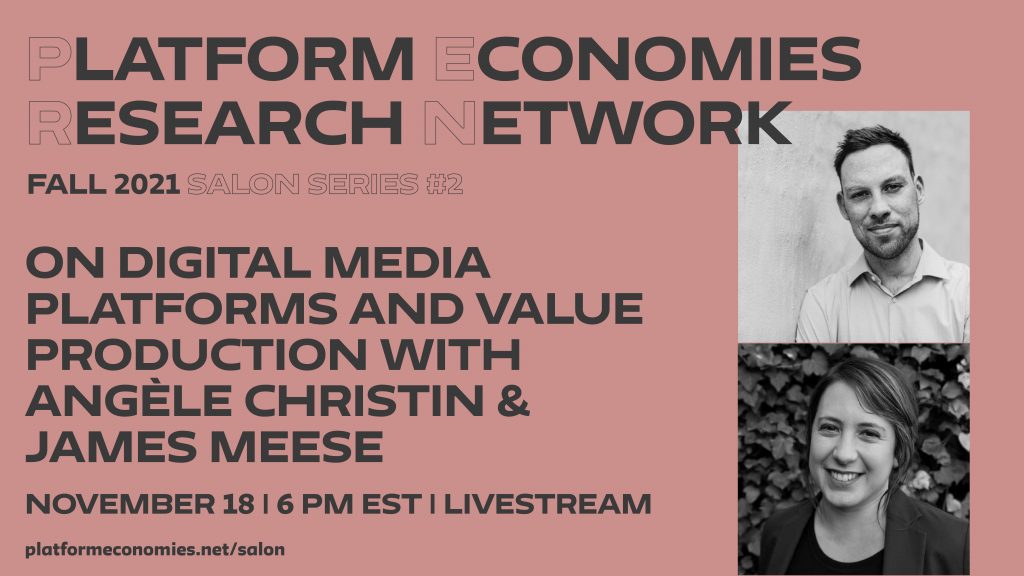 Join us for a conversation with Angèle Christin and James Meese about their recent work on digital media platforms and value production.
Angèle Christin is an Assistant Professor in the Department of Communication and Affiliated Faculty in the Sociology Department and Program in Science, Technology, & Society at Stanford University. Her research examines how algorithms and analytics transform professional values, expertise, and work practices. She is the author of Metrics at Work: Journalism and the Contested Meaning of Algorithms (Princeton University Press, 2020).
James Meese is a Senior Lecturer and Research Fellow at the Digital Ethnography Research Centre at RMIT University, Melbourne and an Associate Investigator in the Centre of Excellence for Automated Decision Making and Society. His research examines media law and policy and the algorithmic distribution of news. He is the author of Authors, Users, Pirates: Subjectivity and Copyright Law (MIT Press, 2018) and Death and Digital Media (Routledge, co-authored, 2018).
This conversation between Christin, Meese, and PERN members will be live-streamed to the public on Thursday 18 November at 6 PM EST. We invite you to engage with PERN on Twitter @perntns or via email at pern@newschool.edu.
Please register here.