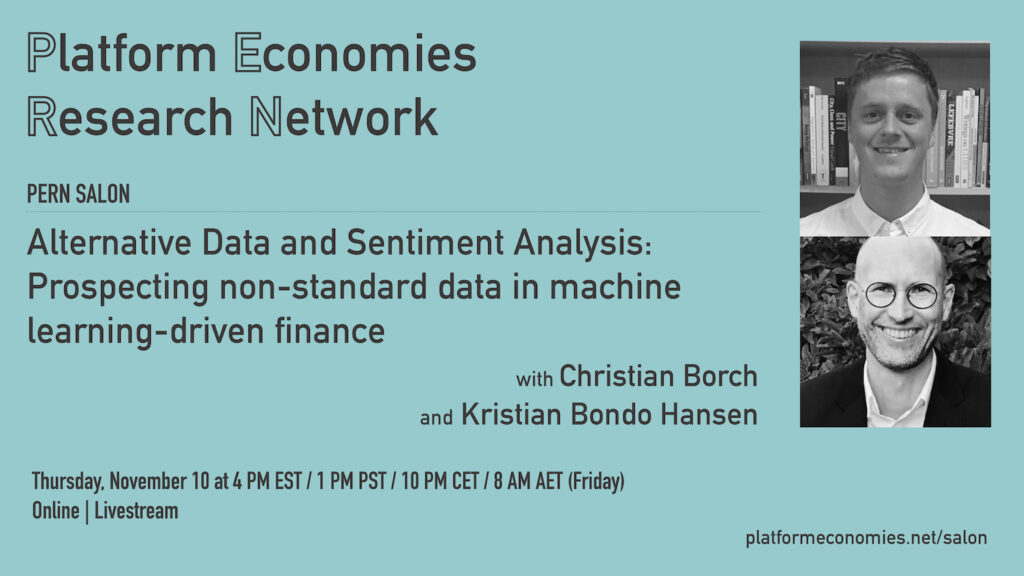 Please join us for a conversation with Christian Borch (University of Copenhagen) and Kristian Bondo Hansen (Copenhagen Business School) about their recent essay, "Alternative data and sentiment analysis: Prospecting non-standard data in machine learning-driven finance," Big Data & Society (January 2022).
Christian Borch is a Professor of Sociology at the University of Copenhagen working at the intersection of the sociology of financial markets and the sociology of technology. His recent work examines the role of machine learning systems in financial markets, using these markets as a laboratory for understanding the sociological impact of machine-learning systems more broadly.
Kristian Bondo Hansen is a Postdoctoral Fellow in the Department of Management, Society and Communication at Copenhagen Business School. His research examines the use of big data and machine learning techniques in various industries and organizational settings and the socio-economic and ethical implications of the quantification and datafication of society.
The PERN Salon hosts discussions, presentations, and workshops. The Platform Economies Research Network (PERN) is committed to fostering a community of learning. We organize events with our members and guests on works-in-progress and new projects. We welcome presentations in all forms of media, and we seek to foster exchange between academics and practitioners.
This conversation between Borch, Hansen, and PERN members will be livestreamed to the public on Thursday, November 10 at 1 PM PST, 4 PM EST, 10 PM CET / 8 AM AET (Friday). We invite you to engage with PERN on Twitter @perntns or via email at pern@newschool.edu.
To receive the Vimeo livestream link, please register here.
Presented by Platform Economies Research Network at The New School and ADM+S.